The CDT in Catalysis is committed to developing world class leading researchers to go out into industry or academia, trained through evolving a network of academic and industrial contacts.
To do this we have a series of events and activities the students have to be proactive in both creating, timetabling and running as part of our student-led programme. It is also expected that the students will attend as many of these events as possible.
Seminar series
This is a program of invited speakers from the CDT, academia or industry which the students organise, timetable and run. These will run every three to four weeks and could be in any of the partner universities.
Annual conference
This is a conference, organised by the students. They have a budget and the conference can be of duration, theme and location of their choice.
Outreach
For the outreach program the students will design an outreach program with the assistance of outreach officers. They will then implement this outreach program and roll it out for participation of all of the CDT students.
Newsletter
Students are also involved in a regular newsletter which the first edition can be found here.
Each of the activities above will have an active committee, and the CDT manager will assist and guide the students through every stage from inspiration to implementation.
Each student will either become involved in one of these committees, or at the very least will be expected to attend the CDT events. There may also be additional events, like lab demonstrating, school or university outreach and conferences they will be invited to get involved in.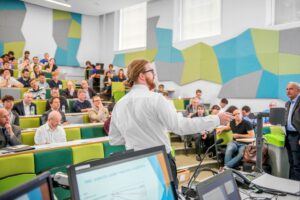 Students will be expected to attend the larger events running throughout the academic year. These larger events can be in any of the three partner universities and will include:
Induction week – meeting and greeting the new CDT cohort in a variety of events
Spring Symposium – usually held in June
Summer Symposium – usually held in September
Annual Conference – tbc
1 day talks/industrial workshops